It seems we're never happy....
too hot, too cold, too humid, too rainy.
...but really where did the warm weather go?
It certainly makes it
easier to craft knowing that we aren't missing lovely sunshine
, and with a number of birthdays coming up there were a few cards to be made and mailed.
This coming
Saturday we have our second All Day Card Class
with some 17-18 ladies. Can you imagine by the time we're finished there will have been
almost four hundred cards made in these two classes.
Would you like a sneak peek of one of them?
They'll all be shown after this Saturday, but in the mean time
here's a peek at three of them.
Linda's been busy putting together some jewelry kits for you

.
Two beautiful bracelets, this one is called Celestial Crystals and is very quickly assembled and more stunning in real life than the photo shows. The gold finish on the square beads gives a regal finish to this piece and
the kit is only
$10.00 plus an hour or so of your time.
This one is a
double stranded bracelet in the shape of butterflies
.
Originally made with Swarovski Crystals, we made it up with glass bicones and rondelles to keep the cost down and yet in lovely summer colours, the beauty still shows through don't you think?
You can find
the tutorial here
and for just a couple of hours of you time you can make this beautiful bracelet.
The kit is ready at the store for picking up for only $12.0
0.
It would be relatively easy to make matching ear rings too.
I'm sure
you'll recall the clipboards I showed you last week
that daughter Sandra and grandson Jonathan made for his teachers.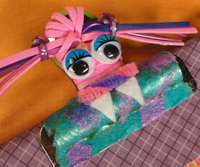 Well
a friend of the store was searching for some ideas for her children
to make and
she sent us a link to more clipboards
where they not only decorated the board, but the clip too.
Click here
to see a YouTube video of them they're really quite cute.
Thanks Shaina for sharing these with us
.
I have to tell you a
story about last week's card class
. We always tease the ladies when they are in class and change up the design of the card a little.
Last week was no different, but I have to tell you
how impressed we were with the change that was made
to the card. So much so that
I asked if we could emulate it on our card,
which now appeared unfinished to me.
I had taken a photo of the card when I was finished with it the first time around and it looked like this.
Then I saw what Tammy had done to her card and which as I said, with permission I emulated. Now it looks like this.
Can you see what a difference the white faux stitching
around the outside of the card makes.
Thanks Tammy for your interpretation.
Linda mentioned to you in the newsletter that
we are beginning to work on the Christmas Card Day Class
. Last week we plowed through some forty emails for
new product coming out of the CHA exhibition
that has just ended. Many of these products won't be released for a few months, whereas some will begin releasing by the end of August.
There were many,
many companies showing their Christmas releases
and we attempted to decide which we would bring into the store and which we would use for cards in the class. It was no easy task I might tell you, but we were happy with the ones we chose.
Watch your newsletter in the coming weeks as we arrange a venue and date for these special classes.
Here's
my last craft for this week
....really cute...really easy and what a great surprise if it was inserted into a birthday card. I read about it too late to put in the cards I've just mailed!
The blogger where I found it said
she had received one as a child from an aunt in Canada
and now as an adult
she still thinks about the magic when she opened up her birthday card
and this enchanting butterfly fluttered out.
Here's a photo of
some of her finished butterflies
that she made to look like Monarch's.
I have to
share this with you
too, I'm not sure where I found it unfortunately as I didn't keep a record. I'ts titled Words of Wisdom...
you decide if it's a suitable title
.
TODAY'S WORDS OF WISDOM.

....
When our lawn mower broke and wouldn't run, my wife kept hinting to me that I should get it fixed. Somehow I always had something else to take care of first, the shed, the boat, making beer.. Always something more important to me.
Finally she thought of a clever way to make her point.
When I arrived home one day, I found her seated in the tall grass, busily snipping away with a tiny pair of sewing scissors. I watched silently for a short time and then went into the house. I was gone only a minute, and when I came out again I handed her a toothbrush. I said, "When you finish cutting the grass, you might as well sweep the driveway."
The doctors say I will walk again, but I will always have a limp.
Finally I'd like to wish a Happy Birthday to
my friend Edie
. We
don't see one another through the summer
but I'm sure she will be back in the store come
the fall and the beginning of her scrapbooking season.
She's the one I often refer to as our "one only album scrapbooker."
A very talented scrapbooker
that didn't know she was going to fall in love with the craft.
Happy Birthday Edie.
Until Later...Happy Crafting
Lilian