Are you like me,
tired of this hard winter?
When chatting with my sister- in-law, she says that she hopes the rain holds off long enough to dry the clothes outside.
Can you imagine hanging the clothes outside in the cold temperatures we're having!
I had a
customer in the store
last week who hasn't knitted in a long time, but is
making a lovely cable hat, scarf and mitten set
for her grand daughter. What she has done
thus far was gorgeous
, but she was running into
problems with the mittens
as the yarn she was using
was thicker than what her pattern
suggested. So,
we were re-writing the pattern to suit the yarn.
You know that's not as easy as one might think and it
took us a couple of attempts
to make it work properly, neither one of us being pattern writers, but we did it. The
cable was a little like this
, so quite intricate.
A few weeks ago
a friend of mine was in need of a file folder tab cutting file
for her Silhouette SD cutting machine. It took me a couple of days to get around to it, but
I did finally make a file and share it with her.
I was
exploring some blogs recently
and came across one that
explained how to share a Silhouette file
without sending it from one computer to another, which is what I do with my friend, and also with my sister-in-law.
What I did next
is what I typically do, and then wish later that I'd done more.
I copied down the instructions, but
didn't keep the blog address!!!
However
I do know now how to share the file
with any of
our blog readers
that would like to access it.
All you have to do
is click here
and
you will be able
(so I understand) to
download the Silhouette cutting file I made.
(Fingers crossed)
There are
three items in the file
, a short tab, a long tab and a fold over tab that look like the ones on the left. These are simply my working copies though, not the cut file, that's in the previous paragraph.
If it works for you, then
maybe I'll link more
that I've made, o
r maybe you have some files that you may like to share
.
Remember t
hey cannot be files purchased with your machine
, or from the Silhouette Store, or that you have downloaded from anyone else's blog.
They have to be files you've made yourself.
Don't forget you can pick up
free cut files
for your Silhouette
by downloading dingbat fonts
that will cut shapes.
Here's one for you to try.
There are a multitude of
frames, shapes, banners and even a couple of mustaches in this font.
Did you
look at the household tips that Di
linked us up with here
?
I thought of another one today and you may well know it, but here it is anyway.
You can
keep celery fresh and crisp
for a number of weeks in your fridge by simply
wrapping it tightly in foil
. I've done this with cauliflower too and it stays white and fresh for much longer than storing it in a container or plastic wrap.
It's great when it's on sale and you can store it longer...
give it a try.
Speaking of
specials,
have you been
over to our face book page
and looked at
the special Linda put on today?
She's going to put a number of
specials on for the month of March
to celebrate National Craft Month, so hop over there to take a look and
save yourself some money.
Just tell us you saw the special on face book.
Here's the link.
Don't forget
with the changes to business face book pages,
you need to log in, hover over the word "Liked" and click on the "Get Notifications" text to be kept up to date as we post there.
So
what have you been crafting at this week
? I made another felt coffee mug wrap. I do
love working with that felt,
such
bright colours
and easy to embroider. Here's the latest one.
See that cute little rose on the front, it is soooo easy to make.
You then
cut in a spiral
into the centre of the circle like this.
I
wrap the felt around itself,
starting from the centre out. Some people prefer to go from the outside in, either way is just fine. On the coffee mug wrap,
I stitched the spiral onto the felt with embroidery floss, pulling the "petals" in to look more rose like,
and added some yellow french knots to the centre.
Can you
imagine the uses for this style of flower
?
It could be on a card, scrapbook page, a pin, headband, a bag you have sewn.
So many possibilities,
and with a few extra embroidery stitches it
can look spectacular
.
Drop into the store to see the sample mug wrap.
I learned in the last week or so, that
we have another budding crafter in the family
, and thought you may like to see some of this young persons work.
Matilda is just eight years old and crafts with her Grandma and sisters in England.
She
has a great imagination
which shows in the pillow she just made and
decorated by herself,
with an elephant face.
She had
also made a pincushion
earlier. She has much potential don't you think?
It pleases me to see the younger generation wanting to needle craft, as there are
so many people that don't know how to knit, sew, crochet, embroider
or anything that pertains to needle crafting.
Keep up the good work Matilda and thank you for sharing the photos with all of us in Canada.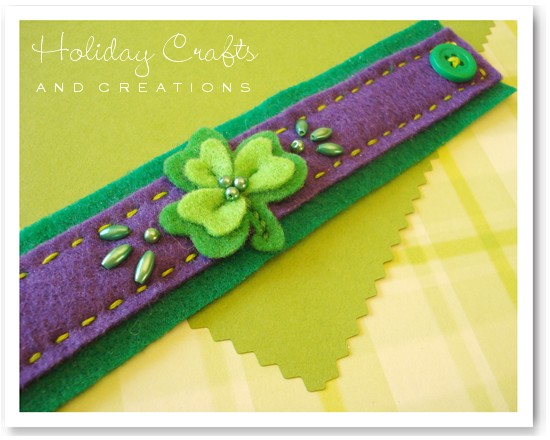 I'm sure there are
many children and adults
who may
like to make this easy bracelet
for St Patricks Day.
Imagine though
instead of a shamrock
as the focal point, you
made a rose
like the one on the coffee mug, it
could be worn any time then.
Drop into the store to get your supplies to make this super easy and fun bracelet.
Were you
one of the lucky ones that scored the free scrapbooking class
at the Spring Mega Crop Weekend? There were
some eager beavers
at the store early on Thursday morning
despite the cold
. Some were there just to register themselves. Some were
there to sign up multiple spots,
in fact up to five when their phone went off to say a friend was caught in a meeting, will you sign them up too please.
After all,
what are friends for if not to come through in a pinch!
We do still have
a few spots left
so if for some reason
you were late out of the starting gate
, drop into the store and
secure one of the remaining spots
and enjoy a weekend of scrapbooking fun.
Also for
those that didn't make the free class,
you can still
participate for just $20.00.
You will be
making SIX single page layouts
for that price, all supplies included.
All you have to do is insert your photos..
.now what kind of a bargain is that?
DO NOT FORGET
the Garage Sale this coming
Saturday, March 8th
. Starting at 9a.m. in the morning and going through the day, but
remember the best bargains will be there first thing in the morning.
We've had great response from our vendors, so I'm thinking there will be something for just about everyone.
There's
lots going on at your local craft store
in the next few weeks.
With the
Spring All Day Card Day
coming up in about three weeks on March 22nd.
Did you miss out of the first class, because if you did,
get your name on the waiting list for a second class.
Be sure to
check your newsletter
each week, the
blog and face book page too
. Sometimes we put extras on the face book page through the week, so make sure you
don't miss those postings.
And so
we come to the end
of another week's blog. What
words of inspiration or fun
can I offer you this week.
There is so much
peer pressure in the schools
, and indeed in the world in general, that
makes us doubt ourselves and our abilities at times.
We perhaps
wonder how we measure up
against this person or that person, when all we should really concern ourselves with is,
how

WE

measure up as a person.
These words,
once again from Ginger's House
, seemed appropriate encouragement no matter whether you're young or old. Perhaps you know of
someone you'd like to share them with to encourage them.
Until Later....Happy Crafting
Lilian